Home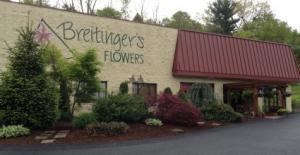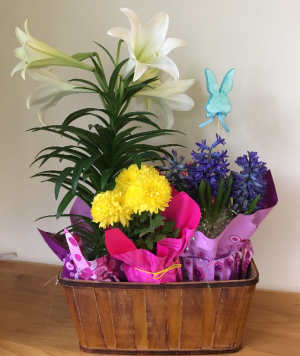 Easter Blooming Plant
Combination Basket
A potted Easter Lily, a potted purple or pink hydrangea, (3 stem) and a potted Chrysanthemum, all tucked in a wooden rectanglar basket with festive Wrap, Easter Grass, and a glittered Bunnny or Easter egg on top. Plants can be easily removed when desired for planting or moving to a porch for spring. One of our most popular choices!
More Info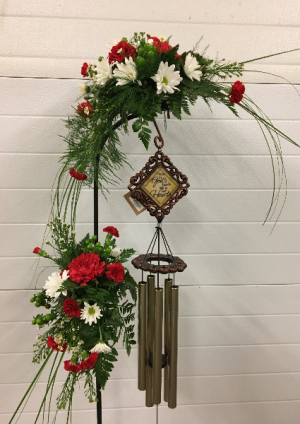 Chime Options With Flowers
-See "Sympathy" Page
Draping flowers add beauty and presentation to your thoughtful lasting gift of Wind Chimes. You may request your flower color preference in "Additional Information section" of your order. "Red," or " Pastels" or "Vibrant" Chime Choices: Small 30 inch, Med 35", Large40" Prices offered reflect Chime size. *See Chime names in this section - you may YOU MAY CHOOSE / LIST CHIME BY NAME in "Additional Information section" also. (If not listed we will choose appropriate chime style and color for your order)
More Info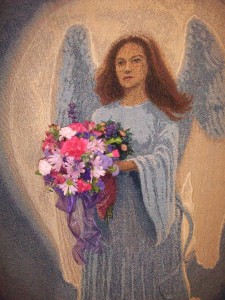 Afghan & Flowers Example
Find Afghans under "More" tab, then Gifts
Our Afghans are Made In USA, we artistically mount this soft woven Throw on an easel. Shown embellished with a bouquet of fresh flowers. Daily delivery to all local funeral homes. Later the family has a comforting, 100% cotton washable memento.) $55 - if delivered to home $75 - Mounted on Easel & trimmed with ribbon $115 - $40 flowers attached as show
More Info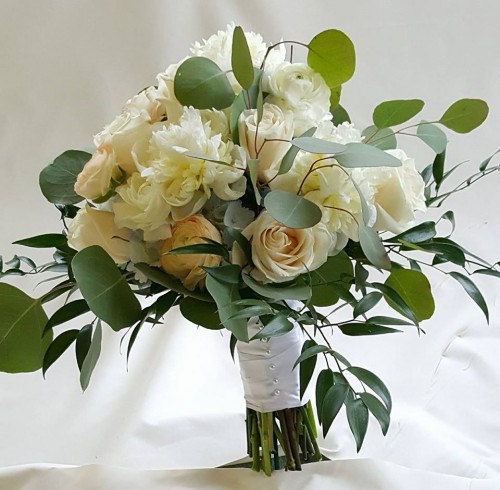 Click The Bridal Bouquet To Visit A Gallery Of Our Elegant, Custom Wedding Florals.
Serving North Huntingdon, Irwin, Elizabeth, East McKeesport, North Versailles, West Mifflin, Munhall, Homestead, Duquesne, Trafford, Wilmerding, Turtle Creek, Monroeville