Easter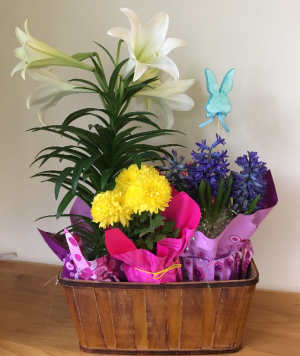 Easter Blooming Plant
Combination Basket
A potted Easter Lily, a potted purple or pink hydrangea, (3 stem) and a potted Chrysanthemum, all tucked in a wooden rectanglar basket with festive Wrap, Easter Grass, and a glittered Bunnny or Easter egg on top. Plants can be easily removed when desired for planting or moving to a porch for spring. One of our most popular choices!
More Info
Gorgeous Easter Blooming Plants! Lilies , Hydrangeas, Tulips, Hyacinths, Mums, Azaleas...

To check availability of specific blooming plants at time of your order, please Call us: 412-751-4123
(If ordering online, we will call you (GIVE BEST CONTACT #) if your plant is sold out.